Este 2019 me he propuesto volver a actualizar regularmente mi Journal Comic. El 2017 no publiqué ni un solo comic y me tiene descontento. No volverá a ocurrir.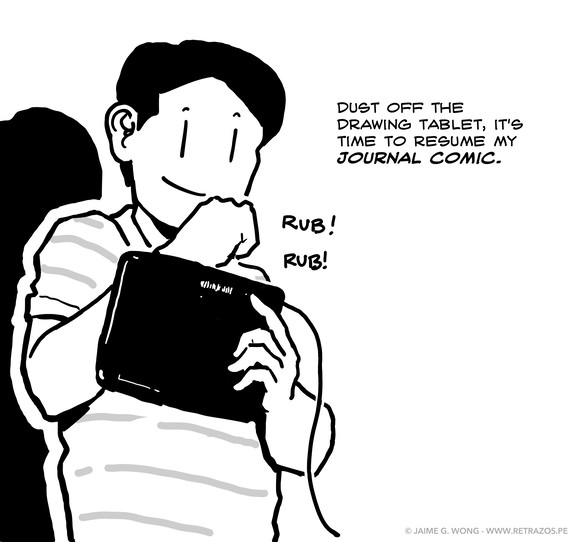 He estado implementando mejoras al motor detrás de todo Retrazos, ahora es una aplicación Zend Framework 3 en lugar del obsoleto Ruby on Rails 1.6. Ha sido una buena oportunidad para hacer refactoring y ordenar todo: la separación de secciones (antes todos compartían las mismas tablas), Unit Testing, una mejor arquitectura, etc.
Aún tengo tareas pendientes, pero mi enfoque está en tener mi Journal Comic funcional, tanto en la parte pública como en la sección privada de administración.
He hecho un cambio que va a romper muchos enlaces pero lo veía necesario: he renombrado varios tags según reglas específicas y claras a fin de mantener una consistencia. Tenía tags en singular, plural, en distintos tiempos gramaticales, etc.
Por si alguien lo encuentra útil, copio y pego mis reglas:
All tags are in lowercase, separated by spaces.
Use international characters: thalía, déjà vu.
Use dashes or other characters proper to the name: wreck-it ralph, sandwich.com.
Proper Names are in singular: batman, bible, ankylosaurus, php.
Prefer the English spelling over the Spanish one: peru vs perú.
Subjects and nouns are in plural: bees, kids, apps, songs. Exception to the rule: when inherently there's only one: grammar, syntax, literature, music. Think: "show me posts with tags of ___".
Adjectives should complete the sentence "I'm ___" or "I'm feeling ___": poor, tired, burnt-out, weary, moved, blue.
Verbs are in singular, present participle tense: running, burning out, falling, walking, reading.
The rationale for adjectives and verbs is that they're actively happening in the comic.
Un detalle del cual nunca me había percatado es que ¡mis imágenes no tenían fecha! Sin el contexto del post, no había forma de saber de cuándo es el comic, haciendo irrelevantes diálogos como "last Tuesday" o "three days ago." Desde el 2019 todos los comics tienen la fecha al pie de la imagen.